We Put Family Services provides optimal and secure service for our customers.
---
Medication Services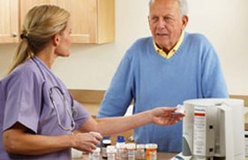 We Put Family First offers four different types of medical assistance to our clients, for oral medications.




---
Staff who administer medication have received orientation and training by our Field Supervisors in the following:
Medication Reminders: Client remains responsible for taking medication
Medication Assistance: Client is capable of and directs staff to administer medications
Medication Administration: Client is unable to take medications and requires staff to administer.
Medication Set-Up: Nurse visits home and fills pill boxes.
---
Our Nurse Aide Services
---
Personal Care
Not only do we provide top quality aide and services, we also attend to our customer personal care and companionship. Including things such as: